You can support the podcast at our Patreon! Your support is greatly appreciated!
Become a Patron!
Robert K. Beshara is Assistant Professor of Psychology and Humanities at Northern New Mexico College, USA. He is the author of Decolonial Psychoanalysis: Towards Critical Islamophobia Studies and Freud and Said: Contrapuntal Psychoanalysis as Liberation Praxis and the editor of A Critical Introduction to Psychology. He is here to discuss his work translating Fundamentalism and Secularization by Mourad Wahba. For more information please visit www.robertkbeshara.com
Mourad Wahba is Emeritus Professor of Philosophy, Ain Shams University, Egypt. He is the author of 22 books and Head and Founder of the Afro-Asian Philosophical Association as well as the Averroes International Association and Enlightenment.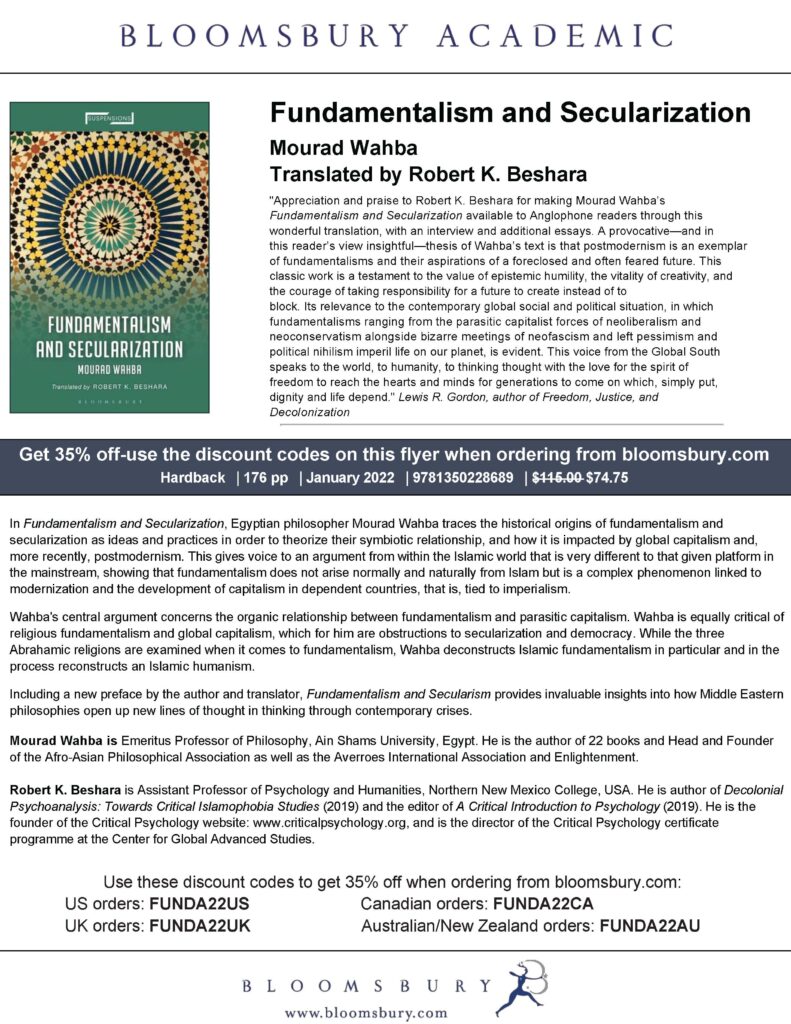 This episode also available at YouTube:
For more with Dr. Beshara, be sure to check out:
RU135: ROBERT BESHARA ON FREUD & SAID: CONTRAPUNTAL PSYCHOANALYSIS AS LIBERATION PRAXIS
RU48: ROBERT K. BESHARA ON DECOLONIAL PSYCHOANALYSIS, ISLAMOPHOBIA, CREATIVITY
Rendering Unconscious Podcast can be found at your favorite podcasting platforms, including: Spotify / iTunes / Soundcloud / Podbean
Follow Dr. Vanessa Sinclair at Instagram / Twitter / TikTok
Dr. Sinclair is the author of The Pathways of the Heart (Trapart Books, 2021), Scansion in Psychoanalysis and Art: the Cut in Creation (Routledge, 2020) and Switching Mirrors (Trapart Books, 2016).
Dr. Sinclair is the editor of Rendering Unconscious: Psychoanalytic Perspectives, Politics & Poetry (Trapart Books, 2019) Outsider Inpatient: Reflections on Art as Therapy (Trapart Books, 2021) with Dr. Elisabeth Punzi, On Psychoanalysis and Violence: Contemporary Lacanian Perspectives (Routledge, 2018) co-edited with Dr. Manya Steinkoler, and The Fenris Wolf, vol 9 (Trapart Books, 2017) co-edited with Carl Abrahamsson.
The song at the end of the episode is "Whitey on the Moon" by Robert Beshara with Sigma Strange.
Many thanks to Carl Abrahamsson, who created the intro and outro music for Rendering Unconscious podcast.