Rendering Unconscious episode 259.
This episode is a recording of a presentation by Chaweon Koo on "Angels, Demons & Ketamine" at Morbid Anatomy Museum online June 11, 2023.
Mysticism often involves sacred plants and mind-altering substances to aid in ritual journeying. The futurist version may also involve brain hacking via ketamine, mixed with the chaos magick and animism inherent in intense psychology modalities like EMDR and Internal Family Systems (IFS).
Occultist and writer Chaweon Koo joins Vanessa Sinclair and Carl Abrahamson to discuss where bio-hacking, 8 esoteric body circuits, a scientist who talks to dolphins, and modern modes of inner journeying and magick intertwine.
Chaweon Koo is a writer at the intersection of pop culture, the occult, and futurism. Her TikTok @chaweonkoo is one of the most popular occult accounts on the platform. She also interviews some of the most distinguished occultists and witches in the English-speaking world on her YouTube, Witches & Wine. Her book Spell Bound details her journey from an atheist witch into one of the most visible East Asian practitioners of both Eastern and Western occult traditions.
The Psychoanalysis, Art & the Occult series of events, curated by Dr. Vanessa Sinclair and Carl Abrahamsson, is dedicated to exploring the intersections and integration of psychoanalytic theory, the creative arts, occult practices, and folk magic traditions. By inviting psychoanalysts, philosophers, artists, writers, and occult practitioners from a variety of theoretical orientations and worldviews to discuss their work, personal experiences, and areas of research interest with one another, dialogue is opened up between practitioners in fields of study that traditionally rarely engage with one another though often operate in similar and complementary ways. Join them at Patreon! www.Patreon.com/vanessa23carl
Watch this event at our Vimeo:
Be sure to check out:
RU236: CHAWEON KOO ON SPELL BOUND: A NEW WITCH'S GUIDE TO CRAFTING THE FUTURE
Join me Tuesday, September 5 at 8PM London time for a presentation on "Freud and the Occult" by Vanessa Sinclair at The Last Tuesday Society / Victor Wynd Museum.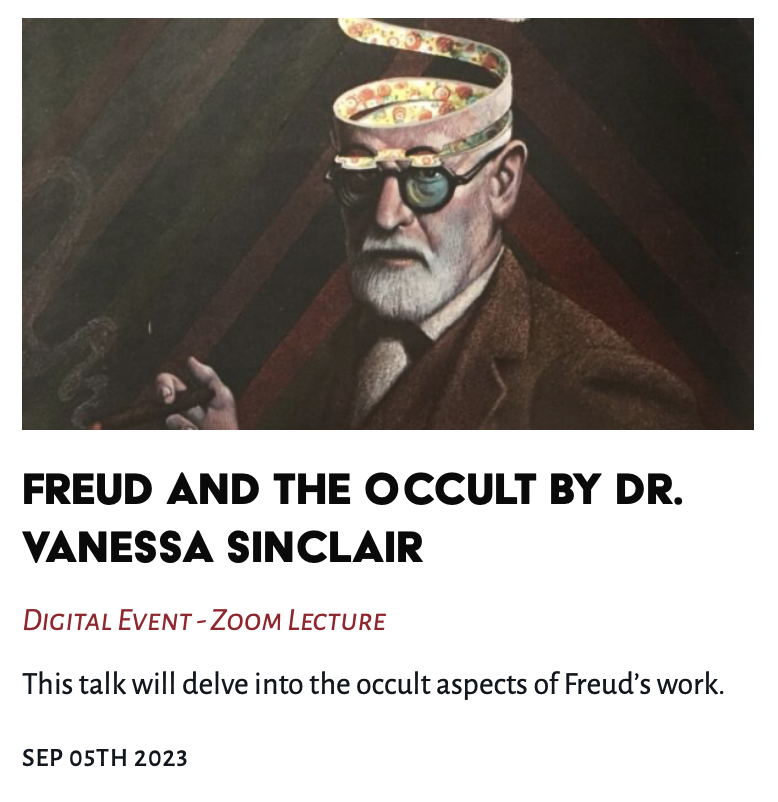 Join us for 4 weeks for our class Harnessing the Magic and Creative Power of the Cut-up Method a la William Burroughs, David Bowie, Genesis P-Orridge, Led by Dr. Vanessa Sinclair and Carl Abrahamsson, beginning September 10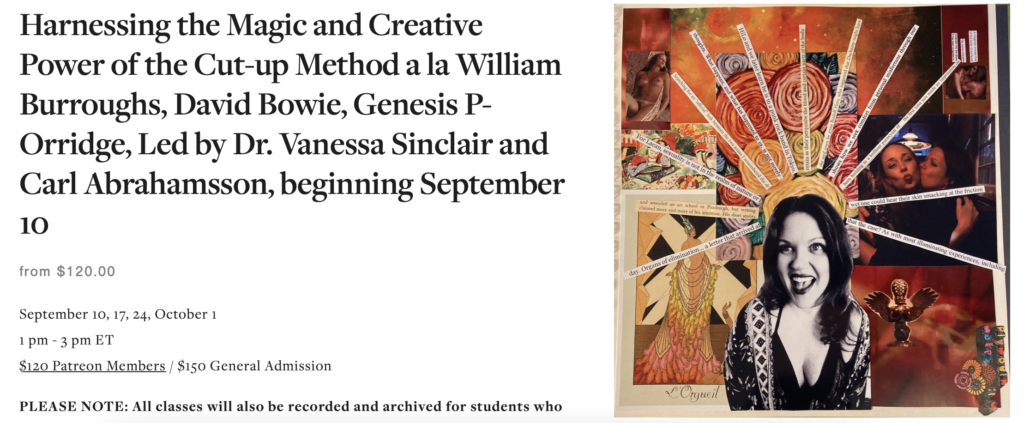 You can support Rendering Unconscious podcast at our Patreon, where we post exclusive content every week, plus unreleased material, works in progress, and a Discord server: www.patreon.com/vanessa23carl
Or you can join us at Substack where we also post exclusive content weekly: https://vanessa23carl.substack.com
Rendering Unconscious is a labor of love put together by Dr. Vanessa Sinclair with no support from outside sources. All support comes from the listeners and fans. All episodes of Rendering Unconscious are available streaming and most also have video posted up at YouTube for those who prefer to watch the discussion and to provide transcription of podcast content.
None of the podcast content is hidden behind paywalls. All podcast content is made available for everyone to access. Dr. Sinclair does all the interviews, scheduling, editing of video and audio content, management of the website, marketing and promotion herself, with no aid from others.
Your support of Rendering Unconscious Podcast means the world, and also supports her other creative endeavors. Thank you for your support!
Become a Patron!
Rendering Unconscious Podcast is hosted by Dr. Vanessa Sinclair, a psychoanalyst based in Sweden, who works with people internationally.
Follow at Twitter | Instagram | TikTok
Dr. Sinclair is a founding member of Das Unbehagen: A Free Association for Psychoanalysis.
She is the author of The Pathways of the Heart (Trapart Books, 2021), Scansion in Psychoanalysis and Art: The Cut in Creation (Routledge, 2021) and Switching Mirrors (Trapart Books, 2016).
And is the editor of Psychoanalytic Perspectives on the Films of Ingmar Bergman: From Freud to Lacan and Beyond (Routledge, 2023), Rendering Unconscious: Psychoanalytic Perspectives, Politics & Poetry (Trapart Books, 2019), Outsider Inpatient: Reflections on Art as Therapy (Trapart Books, 2021) with Dr. Elisabeth Punzi, On Psychoanalysis and Violence: Contemporary Lacanian Perspectives (Routledge, 2019) co-edited with Dr. Manya Steinkoler, and The Fenris Wolf, vol 9 (Trapart Books, 2017) and The Fenris Wolf vol 11 (Trapart Books, 2022) co-edited with Carl Abrahamsson.
Many thanks to Carl Abrahamsson, who created the intro and outro music for Rendering Unconscious podcast. Check out Swedish independent record label Highbrow Lowlife. Enjoy!
His publishing company is Trapart Books, Films and Editions.
Follow him at Twitter | Instagram | TikTok | Vimeo on Demand
The song at the end of the episode is "Drug, the Brilliant Language" from the album "Indulgence not Compulsion" by Vanessa Sinclair and Pete Murphy. Available at petemurphy.bandcamp.com. Also available at Spotify and other streaming services.
Image: Junji Ito Manga Art Horror